Survey
Mind the Cross Innovation Gap
30.06.2015
German companies from industry and trade see the need to catch up with cross-sector innovations. When it comes to Industry 4.0, Networked Mobility, the Internet of Things or Smart Home, the majority of them considers cross-industry innovation approaches to be advisable or essential. Currently, however, only a minority of companies focus on appropriate innovation strategies.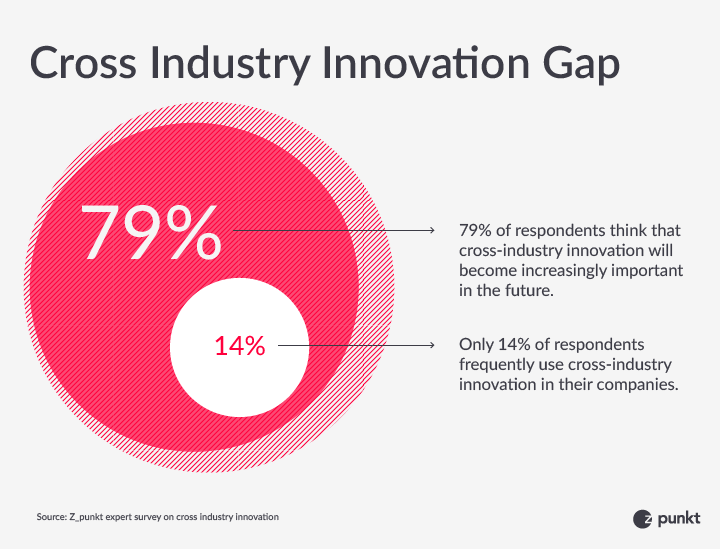 Seventy-nine per cent of companies surveyed consider the integration of strategic partners from unrelated industries to be the most important innovation approach of the future. At present, however, only 14 per cent of companies use it frequently. A further 30 per cent sometimes adopt cross-sector innovation approaches, while 39 per cent do not use them at all.
The search for partners as an obstacle course
Those companies surveyed consider the cross-industry approach to be most important in terms of the Internet of Things. Around 64 per cent believe it to be essential, and a further 32 per cent as advisable. It is a similar story for Networked Mobility – 60 per cent regard cross-sector innovation approaches to be essential, and a further 38 per cent as advisable.
The survey also reveals that companies think that the biggest obstacle to cross-industry innovation is the selection of the right partner from a different industry sector to be the biggest obstacle. In each case, over half of the companies asked cite "Finding the right partner" and "Trust between partners" as being a barrier. The question of "fair distribution of costs, risks and opportunities" is also important, being mentioned by just under 50 per cent.
More news
Perspective
AI and sustainability: a new strategic area of activity
Responsible AI – which rules should be applied to the development of AI applications in future?
26.04.2019
Read more
Technology
Artificial Intelligence as Inventor and Developer
New applications for AI.
27.05.2017
Read more
Finance
Digital Cryptocurrency in Barcelona
Local currencies are proliferating.
27.05.2017
Read more
Technology
Immersive Exosuits with Textile Muscle Fibres
The next steps towards cyborgism.
27.05.2017
Read more
Agriculture
Agricultural Robotics for Efficient Indoor Farming
Vertical farming for salad heads.
27.05.2017
Read more
Newsletter
Receive the regular Z_punkt newsletter in your mailbox. Sign up now.