Sustainability
Scenarios for a resource-friendly society
24.10.2015
How can we manage to establish a lifestyle in our society that takes into consideration the limited resources of our planet? Technical and economic ideas abound, but often they are simply too short-sighted. To bring about a change in attitudes and daily routines, we need positive and attractive social visions. This was the core idea behind the project entitled Critical success factors for guiding principles and sea changes in a resource-friendly society carried out by Z_punkt in conjunction with the Wuppertal Institute and sociodimensions on behalf of the German Federal Ministry for the Environment, Nature Conservation, Builiding and Nuclear Safety and the German Environmental Protection Agency (UBA).
The five scenarios produced in the first stage of the project were recently presented by Dr Maria Schnurr from Z_punkt at the Social Innovation and Global Ethics Forum (SIGEF) in Geneva and Katrin Bienge from the Wuppertal Institute at the World Resources Forum in Davos.
Overall, the visions are constructive and positive, yet still radical. You can find a short summary of the scenarios and both presentations below.
---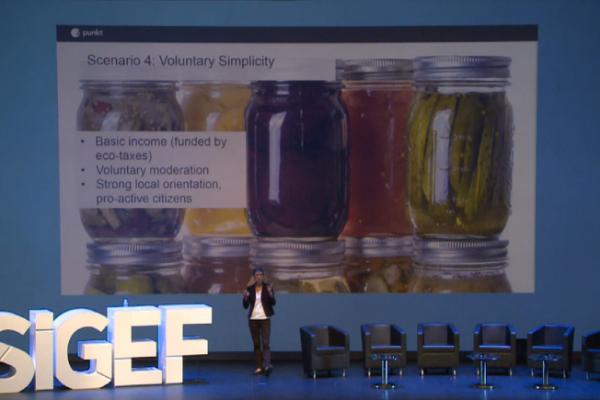 ---
1. Cooperatives Promote Regionalism
The first scenario is based on the ideals that govern cooperatives – orientation on the common good and fairness – but also has a focus on the (re-)regionalisation of many activities. The most obvious anchor of low-resource living here is regional sourcing which massively reduces transport energy and resource use. The strong, voluntary orientation on the common good – which is supported by legal measures – results in significant behavioural changes and fosters social innovations. A strong bottom-up decision- and opinion-making culture contributes to a high commitment of individuals to the idea of low-resource living.
2. Market-based Ecologism
This future is basically a continuation and intensification of the present high-tech strategy of the German government. The "Energiewende" is complemented by similar radical reform programs in raw material usage, transport and food/agriculture. Resource use reduction is achieved by implementing progressive technologies and fostering competition whereas consumer behaviour does not undergo massive changes. Consumers prefer long-lasting, high-quality products that adhere to strict environmental criteria, thus diminishing resource use and waste from consumer products. In conferring status, material symbols still play an important role. Coordination is managed by an interplay between political regulation as well as incentive setting and letting the market mechanisms work in this newly shaped environment.
3. Obligatory Moderation
This future is based on the idea that people would welcome more guidance in their lifestyle choices, especially in times where consumption and other decisions become more complex. Therefore, the government introduces an annual resource budget for every citizen. Interim regulations in a transitory phase and ample advice provided by public agencies help people to get used to live within their given budgets. As a result, sharing and reusing of products flourish and tighten community networks. The economy adapts by focusing on products that enable people to live within their budgetary means, which fosters competition and innovation. Citizens are grateful for the relief of burden that comes along with the high level of guidance. Accordingly, they put a lot of trust in the government and are only little involved in policymaking.
4. Voluntary Simplicity
In contrast to the "Obligatory Moderation" scenario, low-resource living in this scenario results from a voluntary moderation and simplification. People consume less, prefer less complex products, and focus on proximity and their local environment. The government responds to rising NGO pressure to simplify incomes and taxes by introducing a basic income that is funded by returns from higher taxes on resource usage. In response, the economy promotes simple products with high durability and performs salary adjustments. The latter become necessary with the introduction of the basic income which allows people to switch jobs more frequently, work more part-time, and demand higher salaries for less attractive jobs. Citizens and NGOs are pro-active players in policymaking and are increasingly recognized as such, resulting in a high level of civic involvement.
5. Enlightened Global Society
This scenario follows a radical post-modern agenda of dematerialisation. Most prominently, it involves the reduction of the industrial base and a radical focus on the tertiary sector. Strict resource efficiency standards for the growing amount of imports apply. This fosters global innovation and competition for resource use reduction. The driving values of this globally oriented society – solidarity, fairness, and individual responsibility – are reflected in both business/careers and policymaking. Individuals prefer self-empowering and meaningful career options; companies respond by significantly increasing flexibility and independence for employees. In politics, paternalistic policy making patterns are abandoned completely, and citizen engagement plays a more important role than ever.
Download
More news
Perspective
AI and sustainability: a new strategic area of activity
Responsible AI – which rules should be applied to the development of AI applications in future?
26.04.2019
Read more
Technology
Artificial Intelligence as Inventor and Developer
New applications for AI.
27.05.2017
Read more
Finance
Digital Cryptocurrency in Barcelona
Local currencies are proliferating.
27.05.2017
Read more
Technology
Immersive Exosuits with Textile Muscle Fibres
The next steps towards cyborgism.
27.05.2017
Read more
Agriculture
Agricultural Robotics for Efficient Indoor Farming
Vertical farming for salad heads.
27.05.2017
Read more
Newsletter
Receive the regular Z_punkt newsletter in your mailbox. Sign up now.